Someday At Christmas, the voices of Stevie Wonder and Andra Day, singing one of our favorite holiday songs. The glow of candlelight on the mantel. The warm white lights on the tree. Gingerbread cookies and cider set out for our guests. Every year we host a party to ring in the holiday season, and this year our annual celebration was made that much more special with help from our friends at LOWE'S. The home improvement store's vast holiday decorating collection became our go-to to transform our home into a shimmering winter wonderland for the holidays.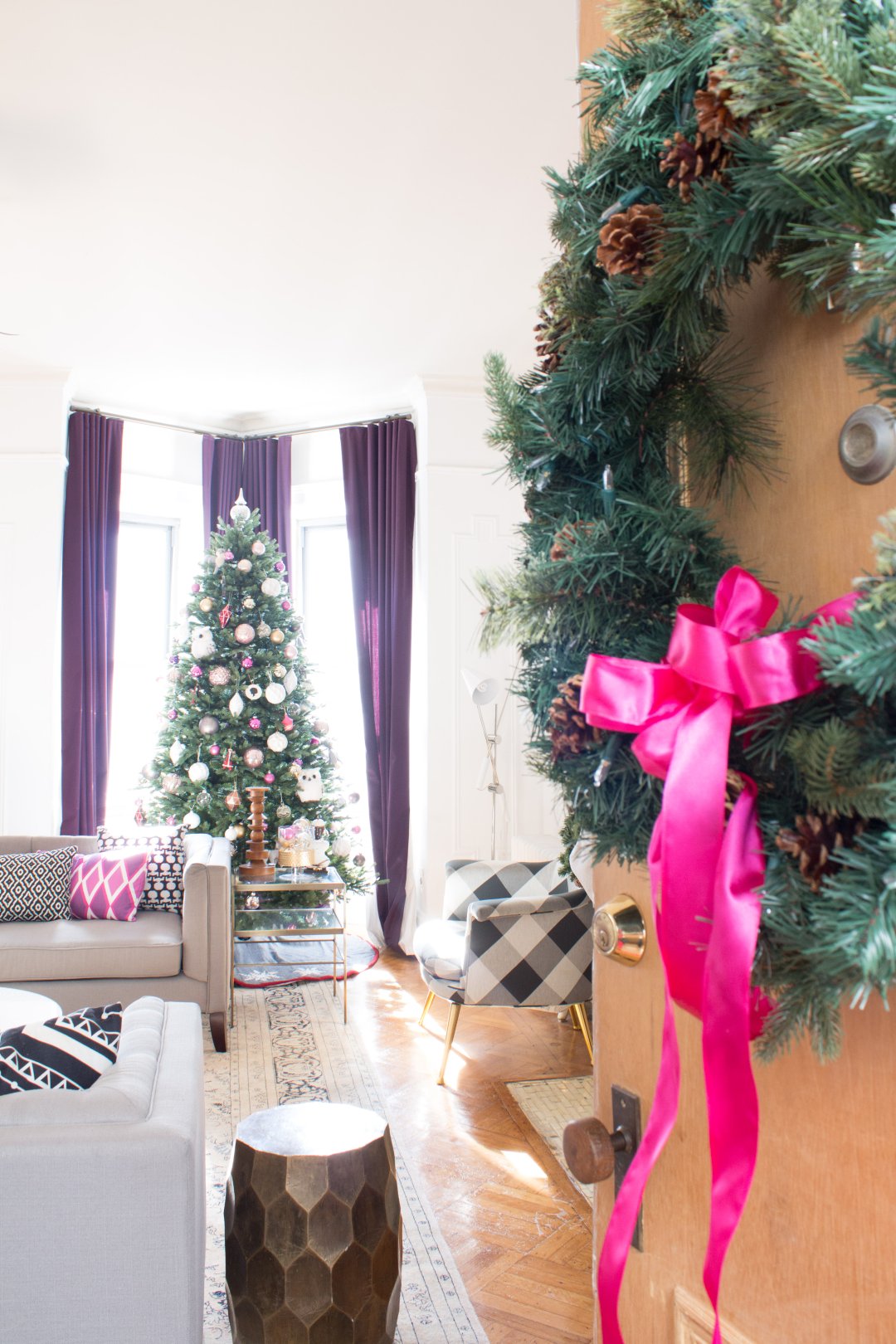 It's the little things that make celebrating the holidays special. All of the small decorative touches that take us back to moments from the year before, where the smell of the tree and tinkling of ornaments has us ready for Santa Claus' magical trip down the chimney. This year we've been inspired by those feelings of nostalgia, reliving Christmas celebrations past with the addition of reindeer and glowing miniature trees to our decor.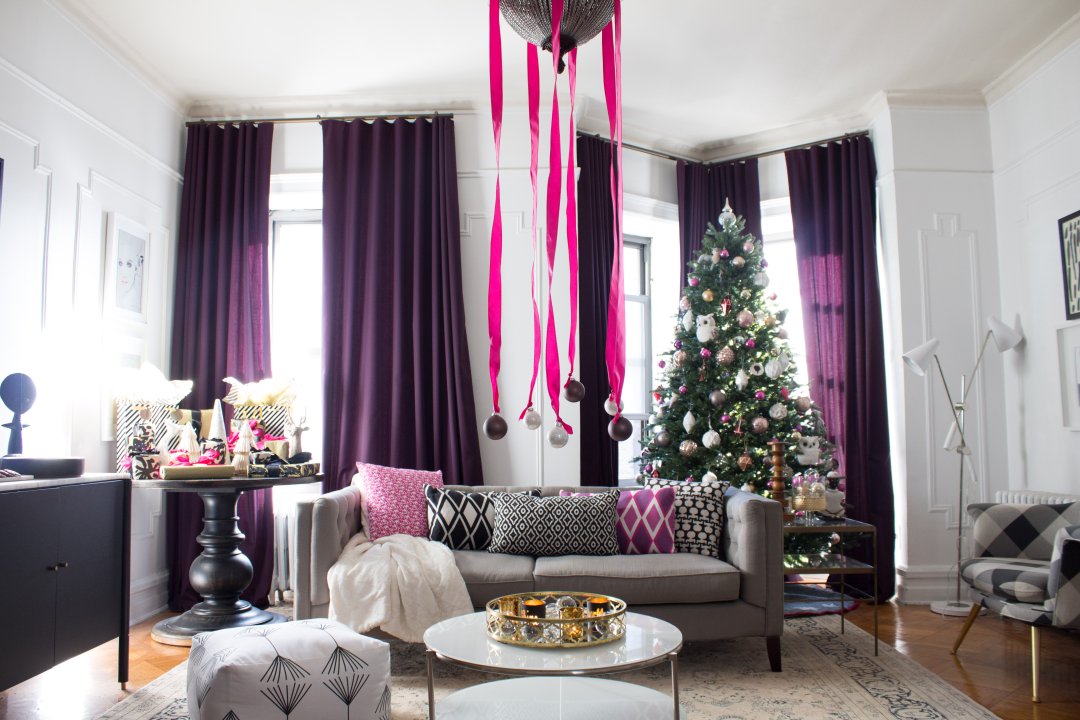 As children, reds and greens comprised the traditional color palette of the season. This year, we tried something different, embracing a modern update of the traditional holiday color scheme. Our focus was to complement our existing decor with classic holiday pieces. The color palette is a direct reflection of pieces in our living room, from our purple drapes – in a shade that is reflected in the ornaments on the tree – to the hot pink juju hat, that was the inspiration for the vibrant pink ribbons hanging from the chandelier. For a little bit of glam, a mix of metallics in silver, gold, and copper added to the holiday glow.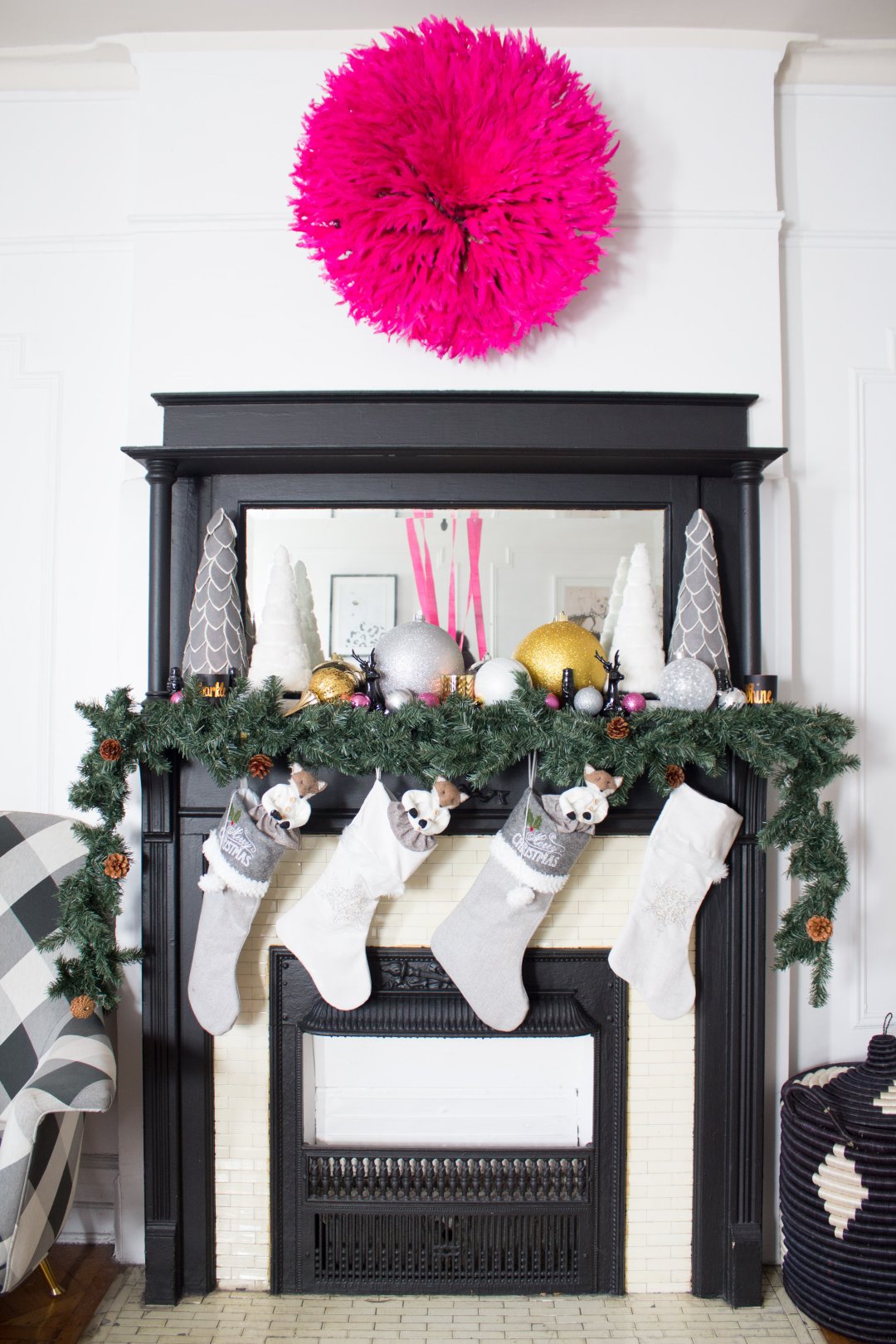 We left no stone unturned in creating this year's holiday decor. We had fun covering every inch of the living room in garland and glittering ornaments. The mantel is always a special spot for making a statement for the holidays. The part of the home where Santa Claus traditionally makes his grand entrance, it was imperative that the mantle decor this year was worthy of the jolly one himself. We completed the look with a mix of modern pieces. From some very cool black nutcrackers and deer to shimmering chevron and typographic votives, the mantel was the ultimate centerpiece in the living room decked out for holiday fun.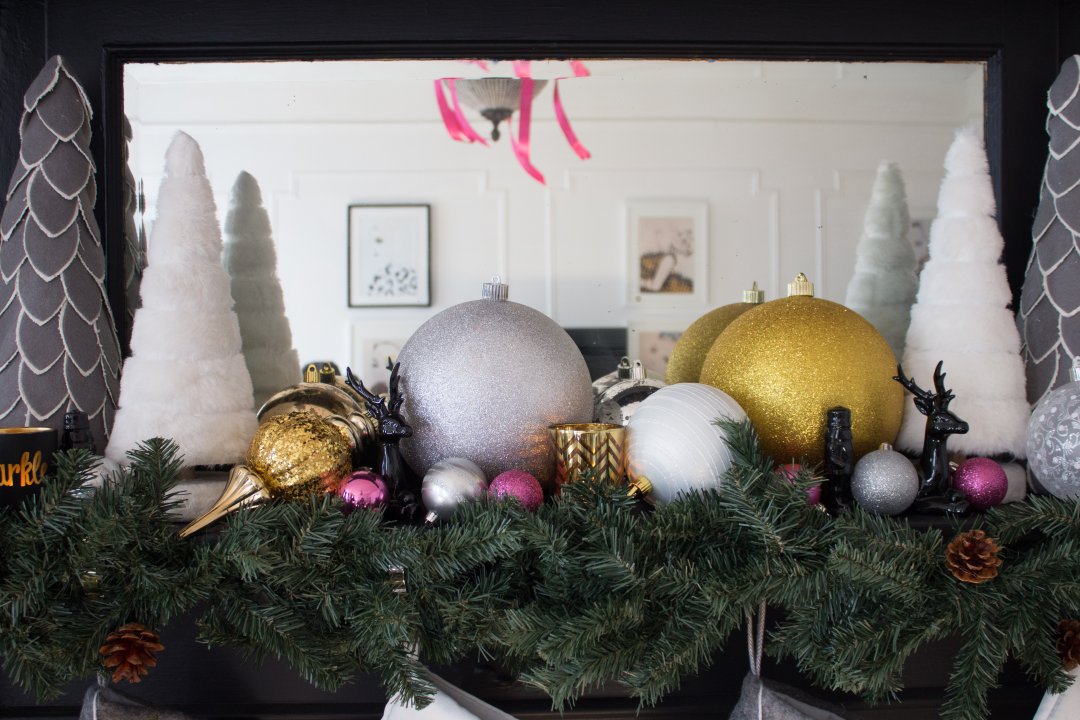 Who says holiday decor has to be match? We scoured LOWE'S for some out-of-the-box decor to help us create this layered look, and boy did we find some goodies. We brought home pieces with a mix of pattern and texture.The fur and felt trees on the mantel were used to add a tactile element to the decor. For a mix of pattern, ornaments featuring stripes and polka dots added a whimsical feel.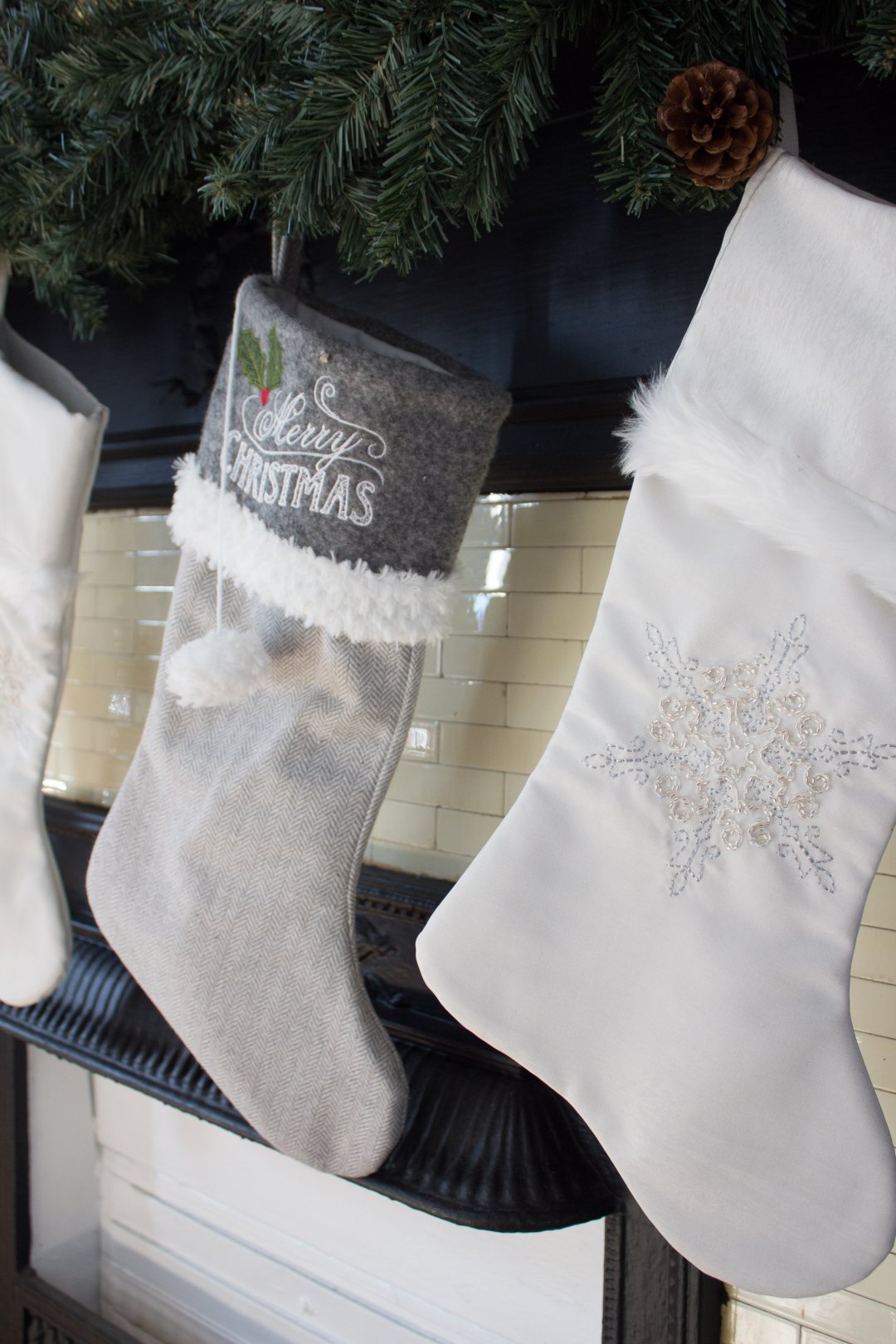 The mix of gray and white stockings looked lovely hanging off the garland over the fireplace. For a little more of an adult feel, we chose stockings that featured a mix of rich embroidery. An embellished snowflake absolutely shimmers. And stockings wishing all of our friends and family a "Merry Christmas" featuring a herringbone pattern, offer some on-trend style.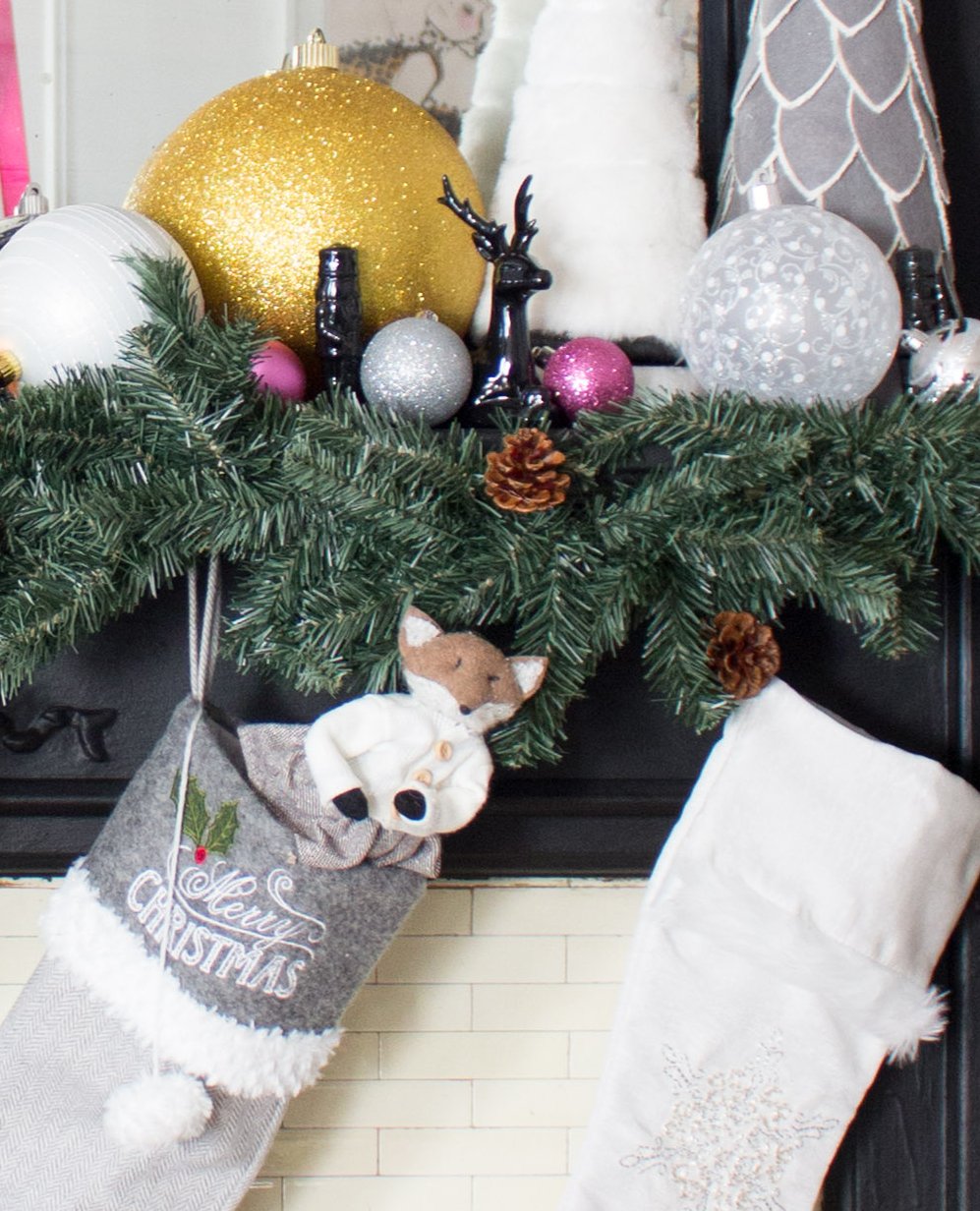 Of course, we couldn't forget our smallest guests. Each stocking was stuffed to the brim with trinkets, including the cutest foxes for the little ladies in attendance at the party. The hard part, getting each girl to agree to take one apiece instead of trying for all three of these adorable stocking stuffers.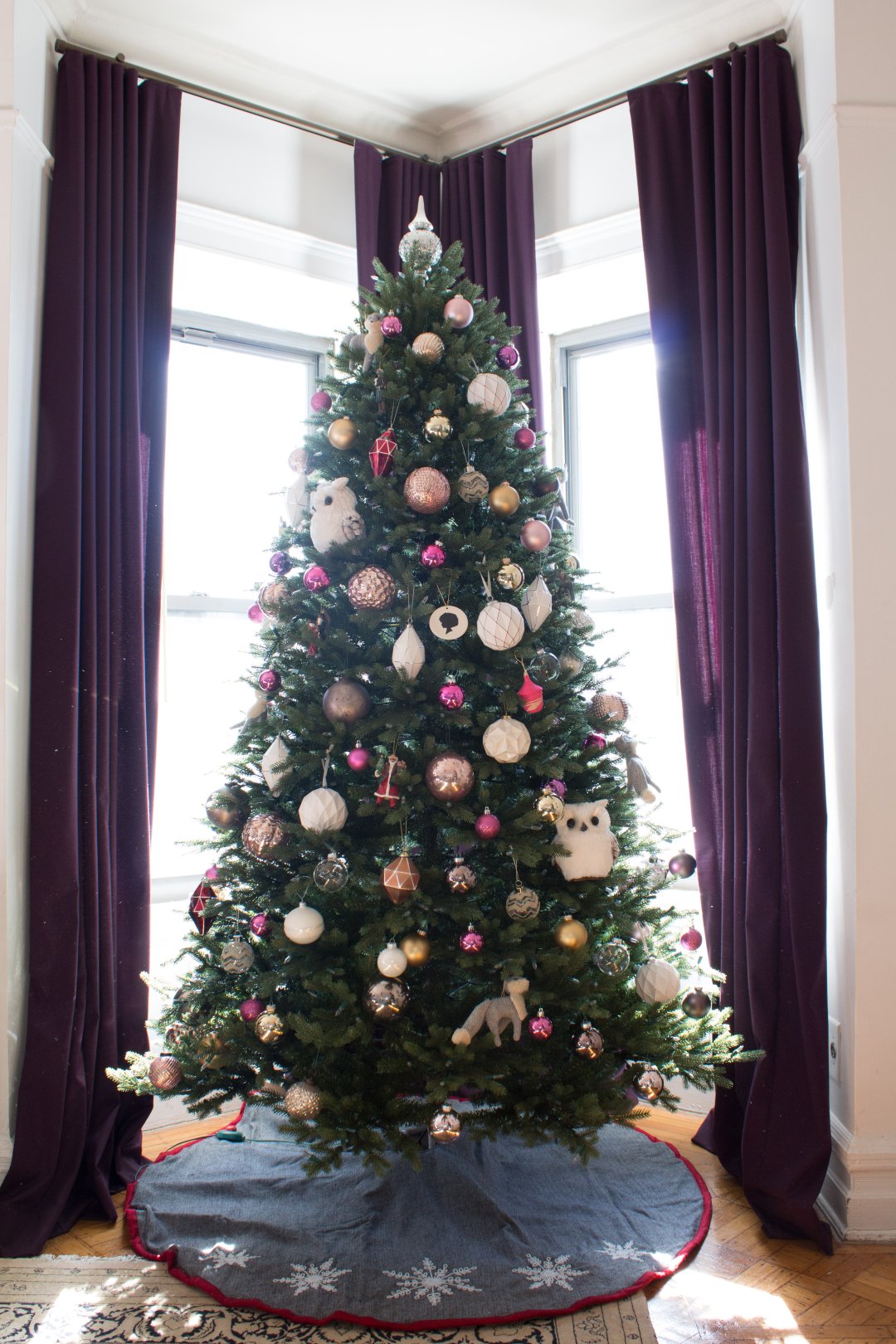 When we first moved into this apartment we had visions of putting our Christmas tree in the bay window, and this year that vision became a reality. The seven-and-a-half-foot aspen fir tree, stands so tall and beautiful it almost looks real. While a faux tree, it doesn't take away from the holiday feel, as warm white lights are already included, making it truly glow at night.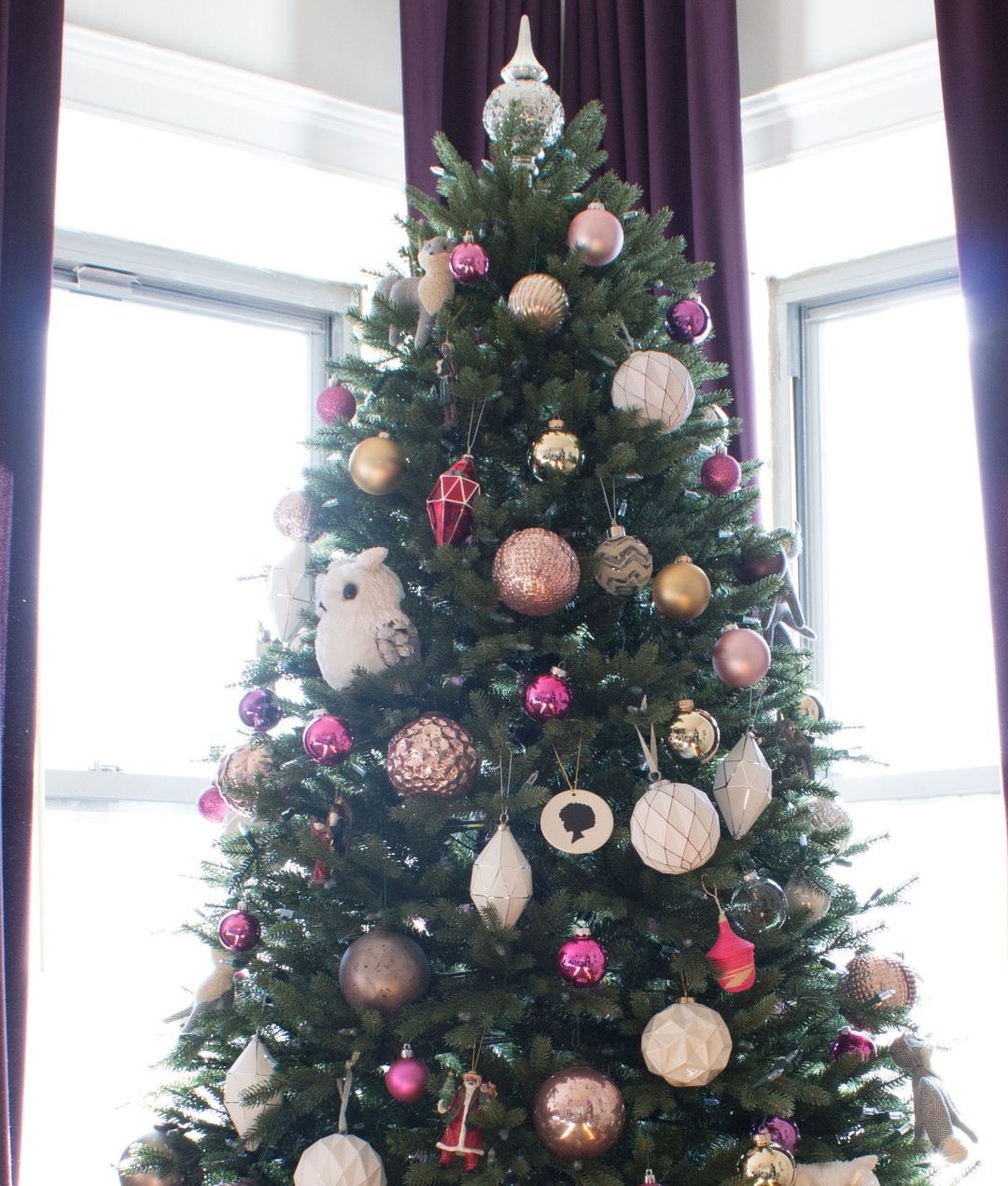 Baubles and ornaments for the tree are always fun. Every year we choose a new ornament for our holiday decor, and this year, we got to choose a ton from LOWE'S vast selection. The patterns on these ornaments are to die for. We got everything, from delicate glass chevron balls to geometric ornaments that look as if they're handmade pieces of origami. LOWE'S also surprised us with a diverse selection of African American ornaments. Our Black santa is a welcome addition to the tree this year.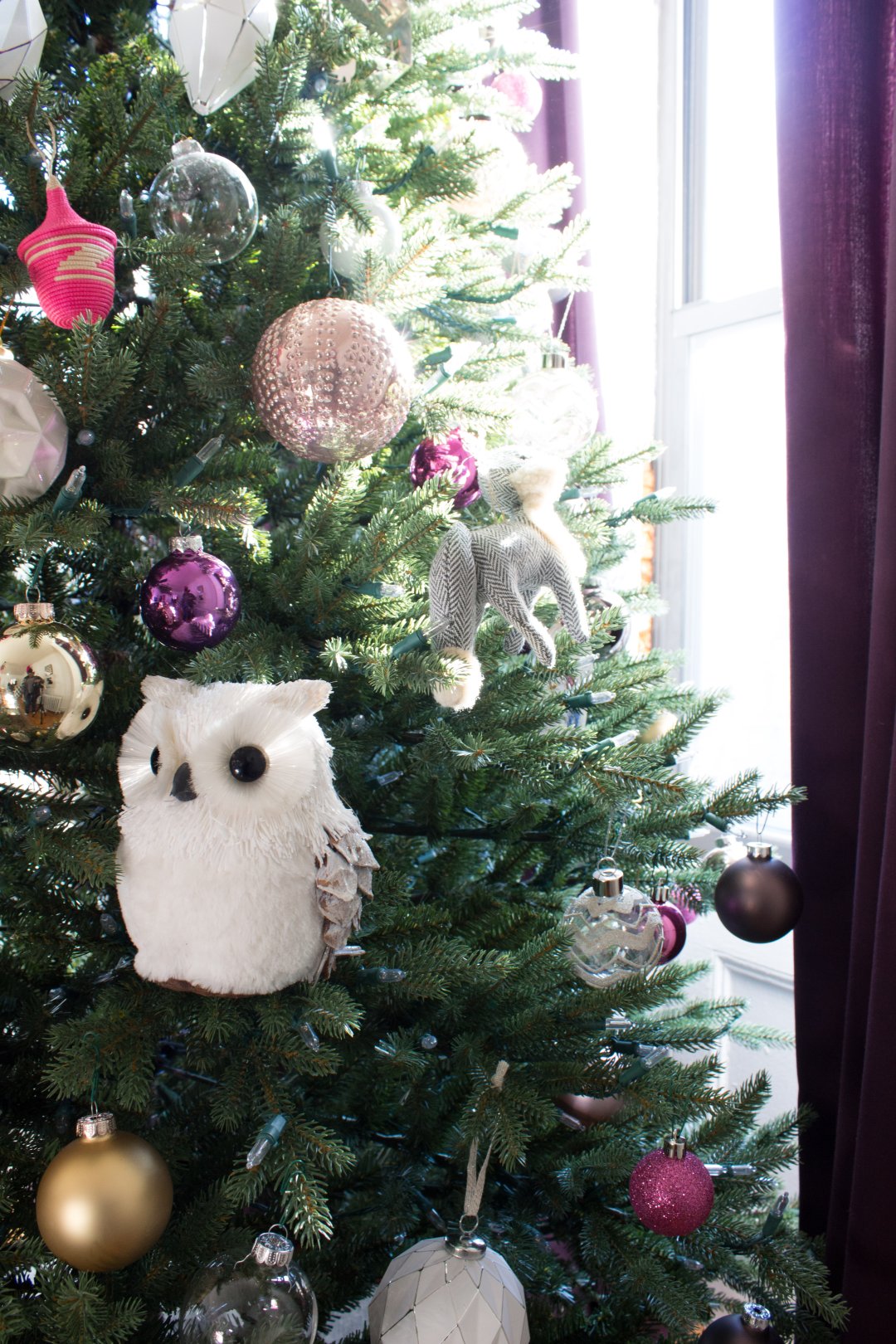 We also styled the tree with some unexpected elements. A celebration of winter weather yet to come, we included a mix of owls and foxes in the tree's decor. The foxes are an unexpected way to continue the chevron theme. And the owls look perfect, perched within the boughs of our super sized Christmas tree.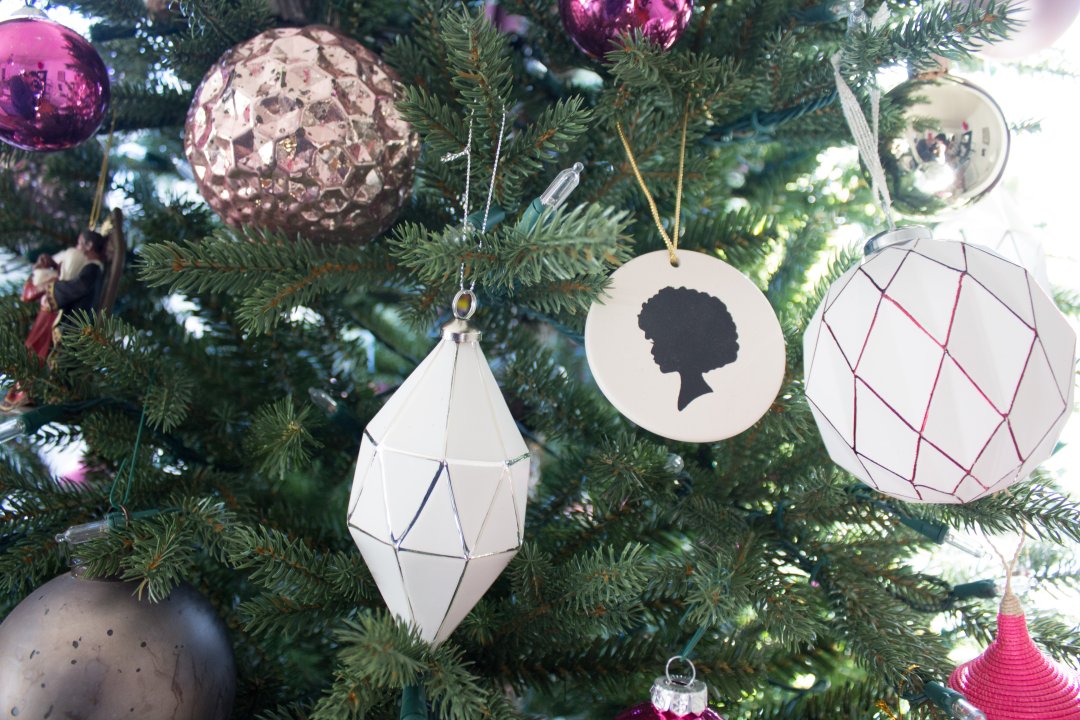 While new ornaments were procured, we also included some family heirlooms for an authentic feel. The mix of old and new is a holiday tradition. It's nice to see pieces like our new mercury glass balls, beside our our handmade AphroChic ornament.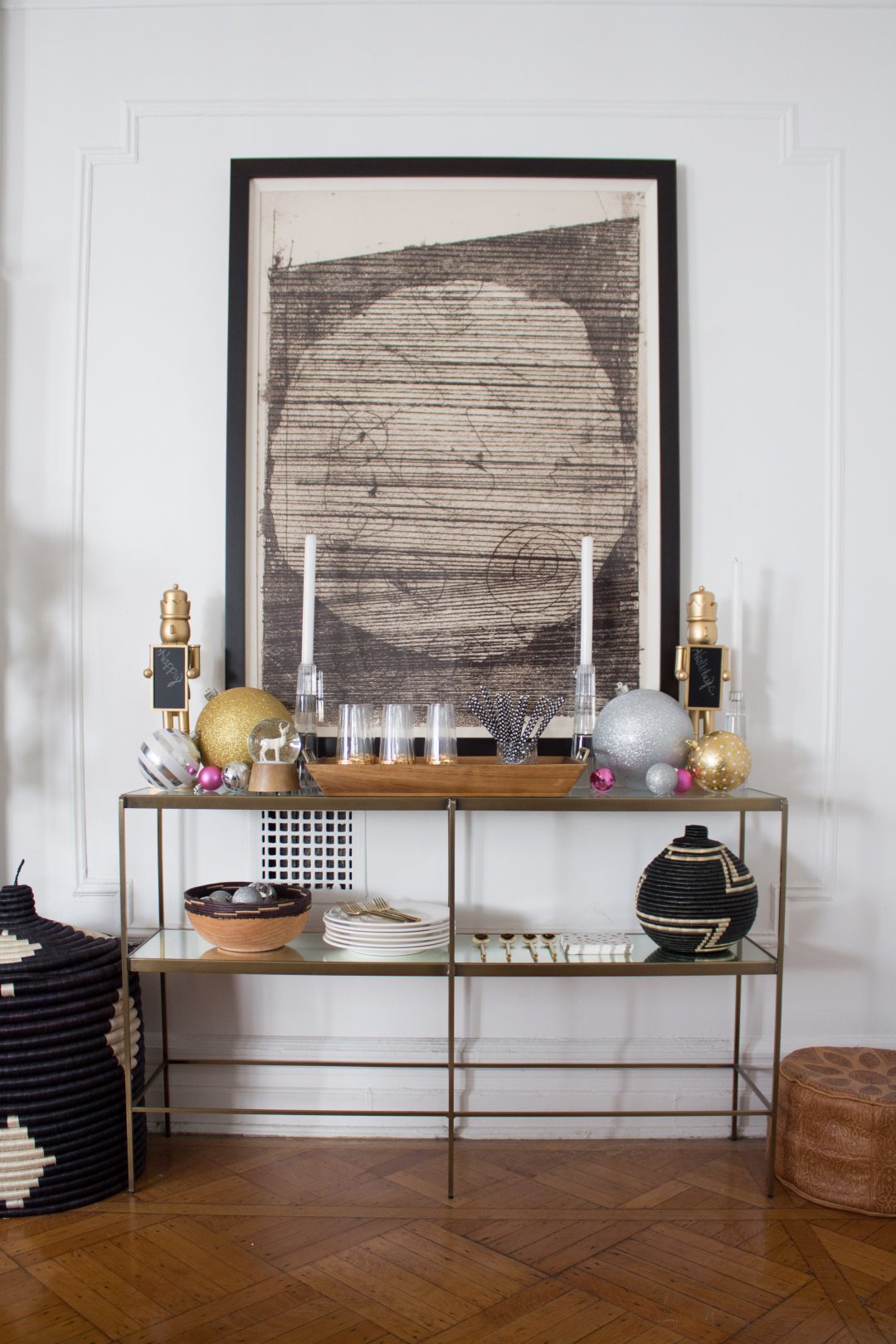 For our adult guests, we styled the bar in a mix of gold, black and white ornaments and decor. Among our favorite elements, our nutcracker chalkboard wishing everyone happy holidays as they picked up their sparkling refreshments.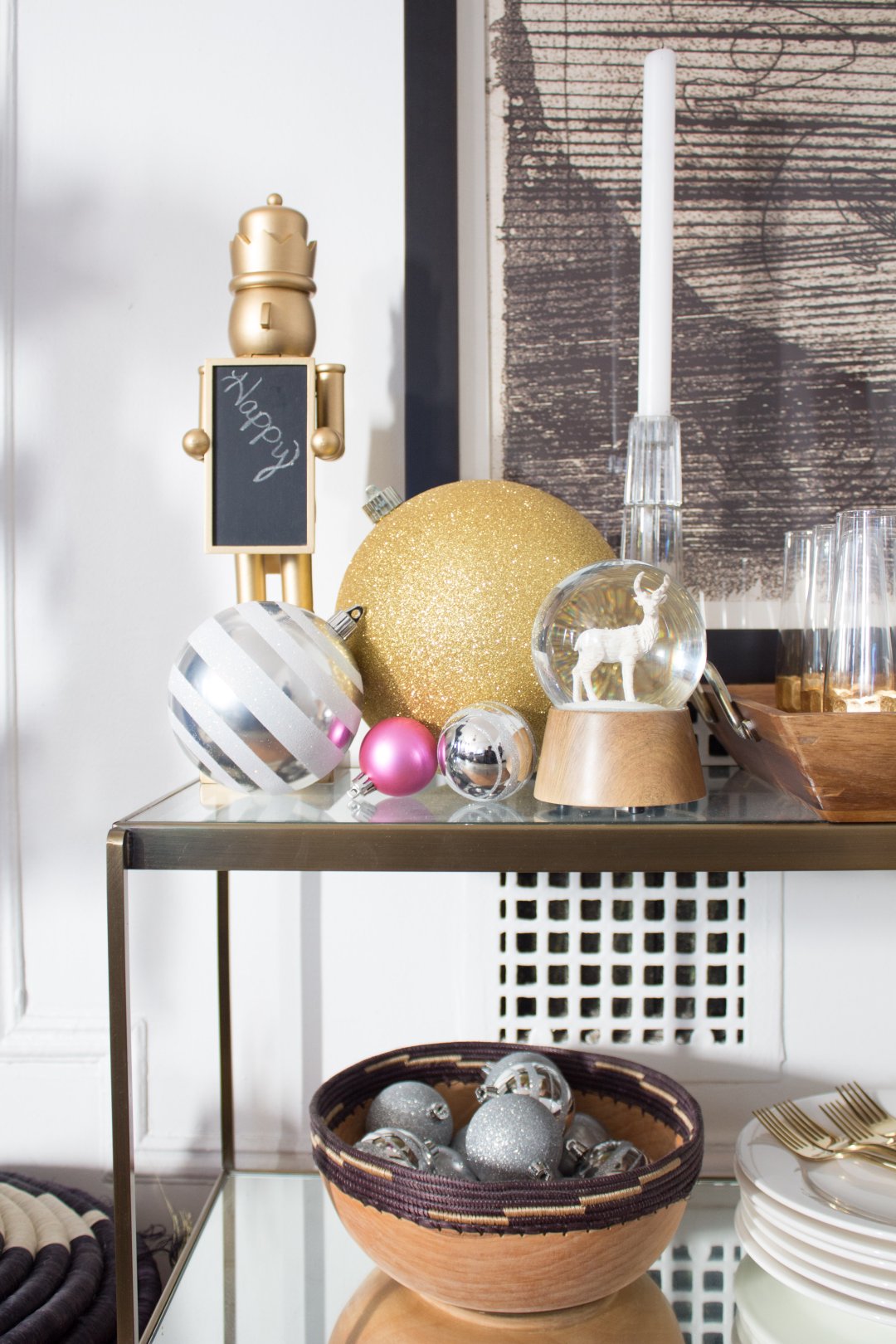 When it comes to choosing ornaments, we learned this year that bigger is definitely better. Large shatterproof balls glittering in gold and silver were the perfect pieces to accent the bar. And we even found a few more striped pieces to add to our modern holiday theme.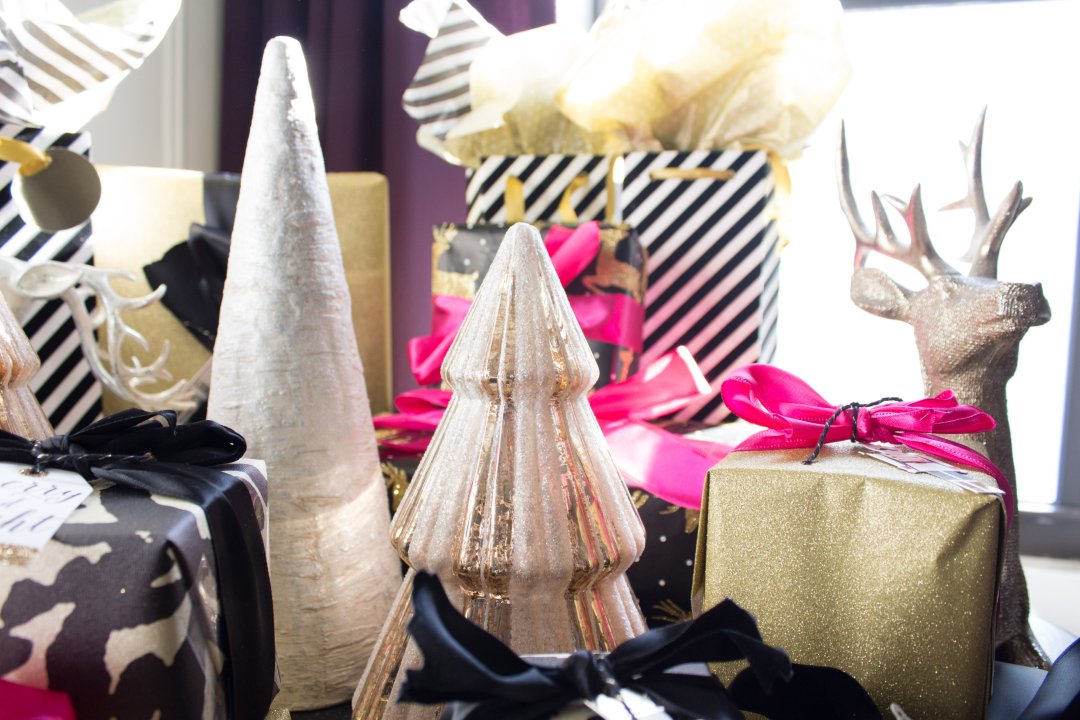 A new idea for this holiday season – a gift table. While gifts under the tree are lovely, on top of the table, they truly became part of our decor. We wrapped presents in a mix of shimmering gold and black allen + roth wrapping paper. Black and white gift bags brought the classic color palette home.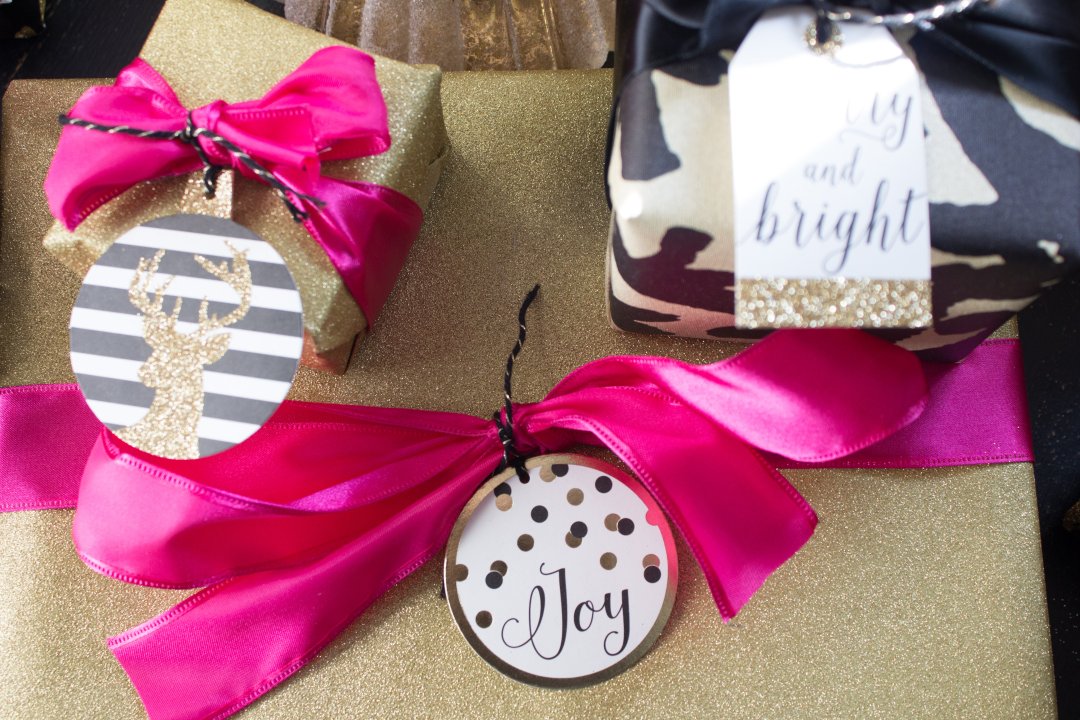 The perfect gift needs the perfect tags, and each was topped with a shimmering tag wishing our guests joy and good cheer this holiday season.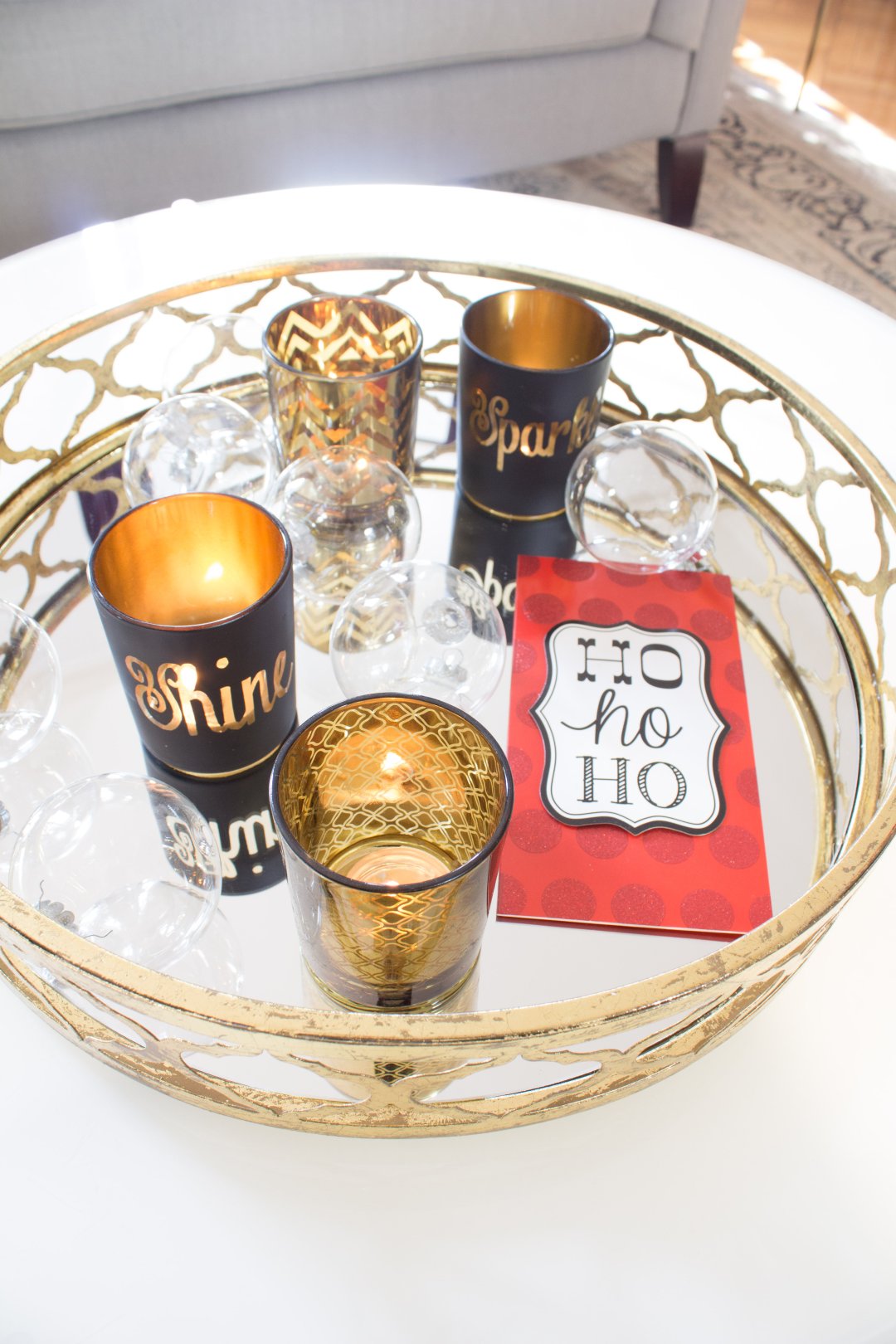 This year, we were able to celebrate the greatest gift of all – fellowship with family and friends – in style. We hope our modern holiday decor is the perfect inspiration for you and yours. Explore all of the items we shopped at LOWE'S in the images above. We hope you'll find something that truly makes your holiday season shine.
Guests:
Emily Howard Kudva
Suren Kudva
Roxanne Kudva
Angela Belt
Brooklyn Belt
Jessica Cumberbatch Anderson
Matthew Anderson
August Anderson
Tanika Goudeau Hochhauser
Brian Hochhauser
This post is sponsored by LOWE'S
Product was provided by LOWE'S and we have been financially compensated for this post. Design and all opinions are our own.
Photography by Chinasa Cooper
Styling Assistant, Tanika Goudeau Hochhauser
https://www.aphrochic.com/wp-content/uploads/2016/11/Lowes-Xmas-20.jpg
433
650
AphroChic
https://www.aphrochic.com/wp-content/uploads/2019/08/aphrochic-logo-glow-254.png
AphroChic
2016-11-30 08:55:37
2017-06-21 10:35:37
Rock The Bells