The Culture Of Color: A Philadelphia Home Transformed
Interior Design: AphroChic
Color is defined as "the property possessed by an object of producing different sensations on the eye as a result of the way the object reflects or emits light." Color is a sensation. It is personal. It is reflective. It is transformative. In the home, the right use of color can create an aesthetic. And bringing color home is as simple as starting with a can of paint.
For a recent interior design project in Philadelphia, we partnered with LOWE'S for an extensive makeover that gave us a chance to show just what can happen in a room when you add a little color. We took a home, over sixty years old, that has been home to five generations one family, and gave it new life, painting it in three soft hues that speak to today's latest color trends while creating the sort of timeless beauty that a home like this should have. Whispers of blue, soft lilac and a silvery gray paints were all used to give this classic house a 21st century look.
Just because color is important, doesn't mean it's easy. On the contrary, working with color can be daunting. Choosing paint is one of the places where homeowners often struggle. And for this home, where white walls and hastily painted moldings were showing more than a little wear, deciding where and how to use color was a challenge. Fortunately we weren't without inspiration. One of the best things about old homes are their good bones – little architectural details that fill the imagination with possibilities. We took cut-outs of our favorite shades to LOWE'S and translated them into satin sheen with Sherwin Williams Infinity paint. The eco-friendly paint became a clean starting point, the basis for rooms where cool backdrops met warm tones to create a space where a family can grow for years to come.
For a bit of color theory, typically, large rooms like living and dining rooms are painted in neutrals like white, cream and beige. But we wanted to play with some new neutrals, using unexpected shades on both the walls and ceilings of the home.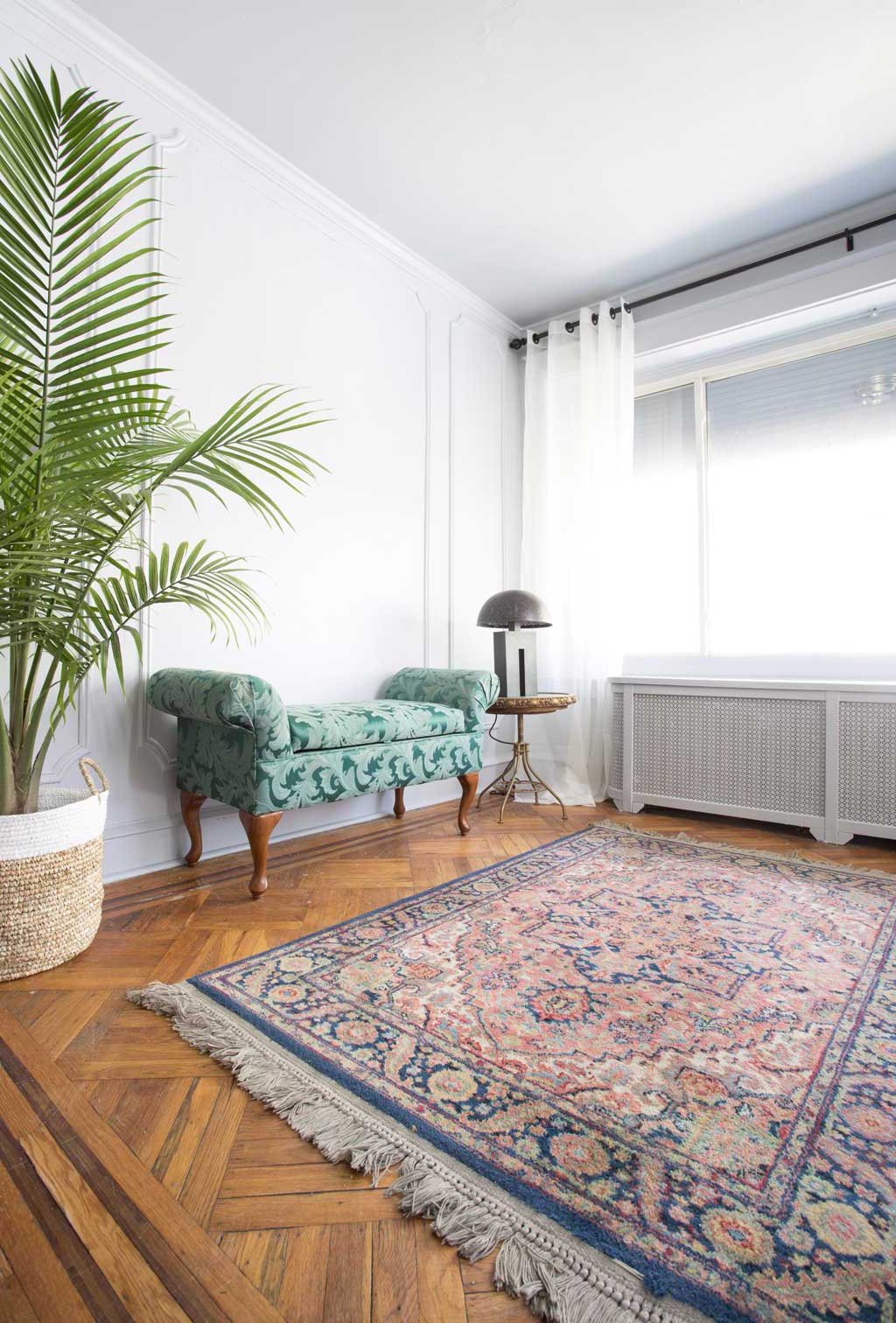 The home's updated entryway and living room are a study in blues. A soft, pastel shade was chosen to paint both the walls and ceiling in. The color created a cool contrast against the home's original hardwood floors. In the entryway, the neutral blue shade took on another job: highlighting the original crown molding. With the wall color bringing attention to the home's original architectural details, furnishings sporting green florals and metallic tones added the perfect touch to this modern-yet-classic and light-filled entry.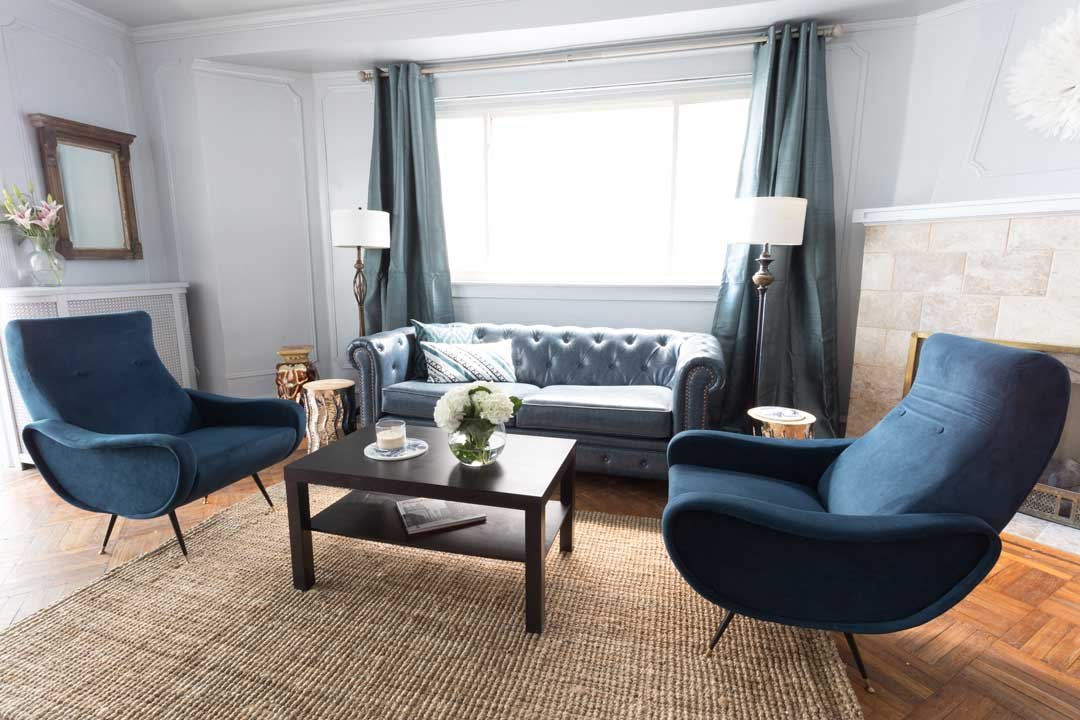 In the living room, the same blue took on a different role as the first of many layers of blues that we used to fill the space. Complementing the light shade that enveloped the room, a blue, tufted vegan leather sofa and turquoise drapes are paired with dark blue velvet side chairs. Silver end tables and a jute rug add to the room's color story, along with wall art, breaking up and emphasizing the subtle layering that gives the room it's distinct personality.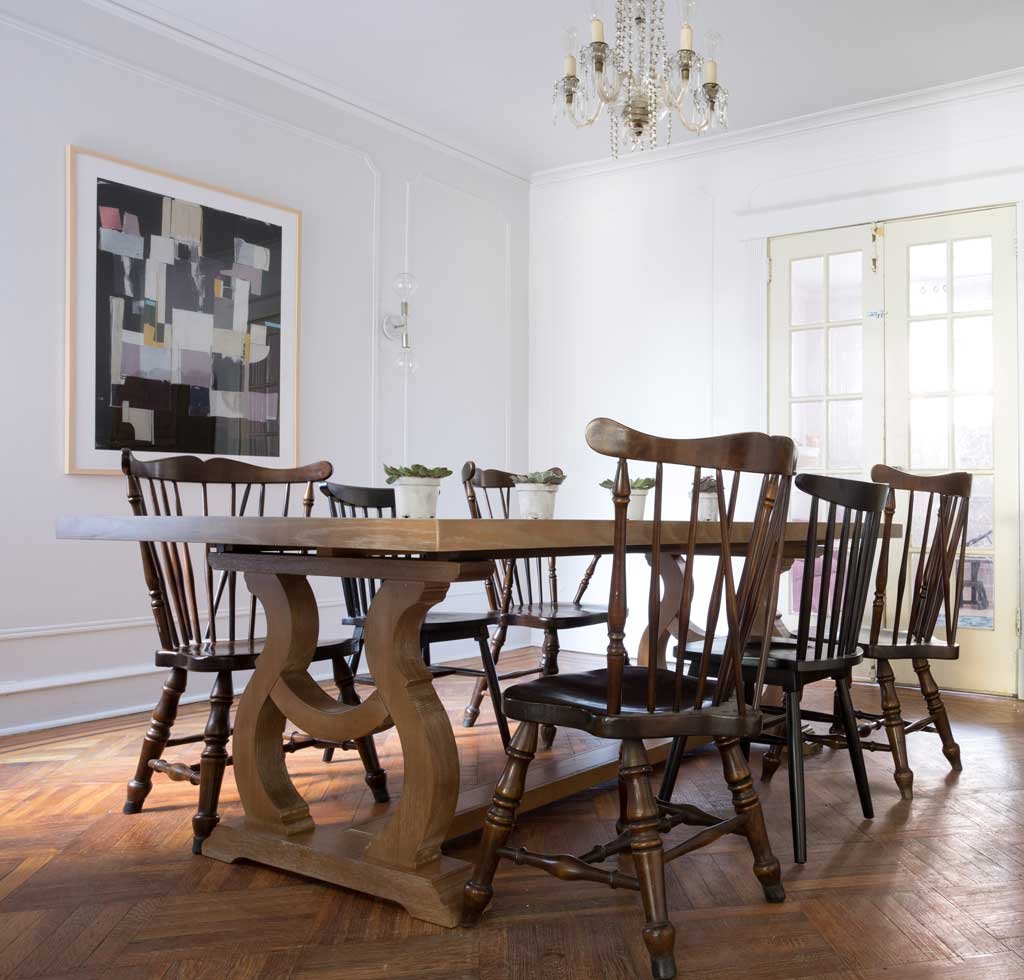 The dining room was designed with contrast in mind. Moving into the space from the living room, the color story transitions from pale blue to a silvery gray. This warmer shade is a perfect complement to the traditional wood furnishings in the space. Shaker Chairs in brown and black and a classic dining table stand out against the gray color that covers the ceiling and walls. New sconces line the dining room adding to the light offered by the antique chandelier over the table – a purchase made by the very first generation of the family to occupy the house. In the corner, another first generation piece, an antique hutch, brings another touch of family history to the home.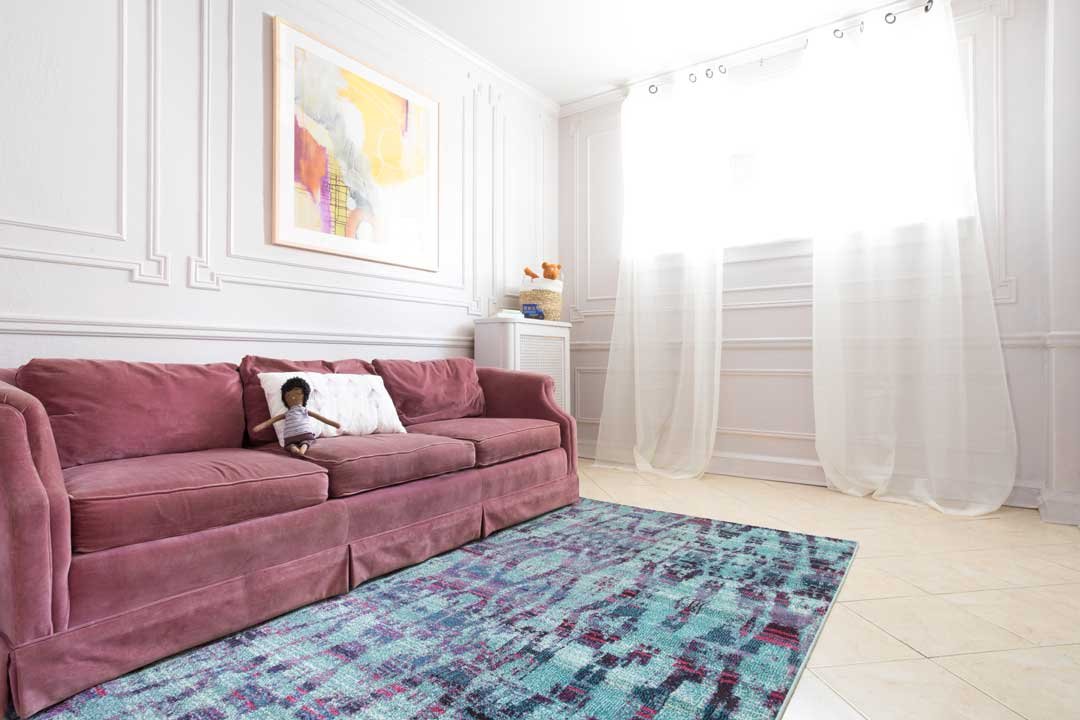 The final color transformation was the home's most dramatic. A breakfast room, originally painted in a harsh yellow, was completely altered with a wash of lilac-gray paint. The room, now a play area, takes on a different sensation covered in soft tones of a purplish gray. Now a whimsical space for a child to imagine and grow in, its palette of pale purples is brought to life by a plum velvet sofa. Yellow artwork hung on the wall is a moment of contrast and an homage to the room's former color.
Color is sensational. It can alter a space with a pop or a whisper. It can make a room feel refreshed through cool contrast. And when it's just the right shade, it fills a room, stripping away the years to make an old space feel vibrant and new. For this home makeover, we chose three shades that took a family home into the 21st century, creating a colorful base for them to grow into for generations to come.
See more of the before-and-after transformation of this space in the gallery below.
Living Room and Entryway Sources: Imax Brown/White Wicker Basket, Armen Living Winston Antique Sofa, Safavieh Elicia Midcentury Accent Chair, Foreign Affairs SIlver End Table, Bryson Blackout Single Curtain Panel, Safavieh Natural Fiber Bellport Coastal Area Rug, Tae 5-Light Chandelier, Ava 2-Light Wall Sconce, Ndop Pillow, Haze Pillow.
Dining Room Sources: Sherwin Williams Infinity Paint, Burris Traditional Medium Side Chair, Barley Brown Wood Dining Table, Chloe 2-Light Wall Sconce.
Playroom Sources: Jumping The Broom Pillow, Copper Industrial Globe Pendant, Ivory Sheer Single Curtain Panel, Momeni Zerega Blue Indoor Area Rug.
This post is sponsored by LOWE'S. Product was provided by LOWE'S and we have been financially compensated for this post. Design and all opinions are our own.